Today was hot, and it's going to get a lot hotter!
How did I manage to survive growing up in the desert where the asphalt melted in the summer? I'm such a wimp!
Today Solomon just got a bit of fly spray rubbed on his face, a brushdown, a hoof picking, and then he got to graze and graze. He got to say hello to Magic and her foal too! Magic established a clear boundary, and Sol pretty much respected it, though he DID have to run around the two of them in one circle, just to make some sort of "I'm a stallion and a big time stud no really check me out" point. Sssh, don't tell him he's gelded, I don't think he really knows!
When I pulled Solomon out, I had to chase Remmy off the gate, and stop him from trying to chase Solomon away from me- Remmy wanted to come out. It was difficult but I managed. Bo taught me more about moving a horse away from me. Swinging the rope (you don't have to hit them with it) and making that whoosh sound is a good tactic.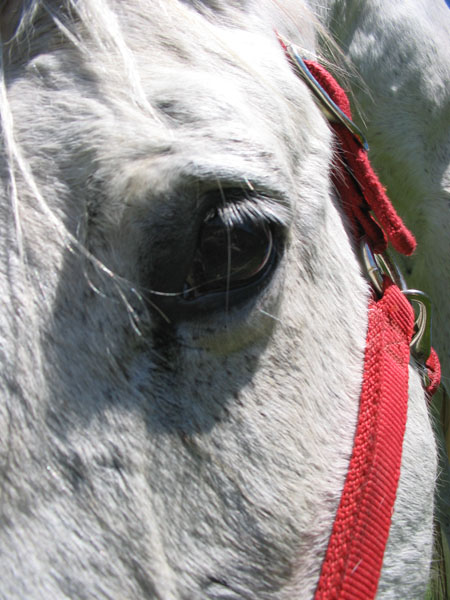 So yeah, Solomon had a really easy day today. I got to watch the fun that is horses who enjoy water!
Bo went on a 3 hour train ride with Reiny Day today. Reiny Day is only 4, and this was his first trail. He did well! Someday Sol and I will get to do something like that. Someday...